Insurance ads are everywhere. In fact, according to Statista, the amount spent on advertisements by insurance companies is the 5th largest of any industry.
As an insurance agent or industry professional working for a carrier that doesn't advertise, the large ad budgets seem like a formidable competitive threat. But is that true? Actually, it creates an opportunity. Here's how.
The Good and Bad About Insurance Ads
Advertising Works
Naturally, the biggest spenders for insurance ads are the biggest companies. In line with what one would expect, the biggest advertisers are mostly performing well in terms of market share growth. Therefore, it's logical to conclude that advertising works. However, advertising is only partially achieving the desired outcome for these big spenders. What works is that insurance ads drive more transactions.
The Limitation – Brand Building
It's not all good news on the advertising front. In focus group studies, ValChoice has uncovered the fact that there is surprisingly little brand recognition for these big advertisers. The effect of this is that the name recognition the large companies hoped to enjoy is disappointingly low.
We chose a white t-shirt as the image for this post, because what could be harder to brand than a white t-shirt? Nevertheless, it's possible. Think of Hanes as a brand. Hanes did a fantastic job of branding boring items like t-shirts. What is the insurance industry doing wrong causing them not to get the same brand recognition? We discuss that in more detail below.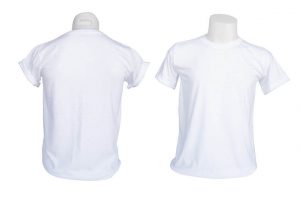 Great News for High-Performing Insurers and Their Agents
Here's the good news for high-performing insurers, and their agents:
First, selling insurance does not require a recognized brand name. That said, it does help.
Second, the fact that advertising works has been proven based on the spend of the large companies.
Third, the large advertisers are not effectively capitalizing on the branding opportunity. This creates an opportunity for other companies.
Therefore, an opportunity exists for high-performing insurance companies – and their agents – to build market share by advertising. The challenge is that most do not have the marketing infrastructure or technical expertise required for implementing insurance advertising campaigns.
Renting Marketing Infrastructure and Technical Expertise
Finally, carriers, local agents and brokers can differentiate, brand and capture business with one easy-to-use tool. ValChoice tools include the following capabilities.
Help stop re-marketing by visually and numerically expressing quality
Draw in new business by visually showing how companies perform
Integrated tools for creating and running digital ads and monitoring performance
Simple ability to target your desired prospect
The best branding platform in the industry
All tailored to the work flow of insurance agents and brokers
Users report an ability to create and place effective advertisements in under five minutes. Even better, with no minimum spend requirements, agencies can advertise as needed and when desirable. By comparison, hiring an advertising agency typically requires a minimum annual spend of at least $60,000. Conversely, agents and carriers often start using the ValChoice platform with a budget of only $500 to $1,000.
Addressing the Branding Problem
As noted above, advertising campaigns of the large insurers are yielding disappointing results when it comes to branding. This is in large part the result of companies highlighting a message of "cheapest." Great brand names are not built on "cheap." Great brand names are built on "quality." Think back to our Hanes brand example. Do you think "cheap" when you think of Hanes? An internet search shows people asking questions about Hanes ask: how it fits, is Hanes good quality, etc.
A value proposition based on quality is the founding principle of ValChoice. A ValChoice fuel-gauge-style image rating insurance companies for value, claims handling and service is unforgettable. Many agents tell us the first ValChoice rating they deliver brings them business. Others tell us prospects that see a ValChoice fuel-gauge style image for a great company often come back to buy insurance from that company, even as much as a year later.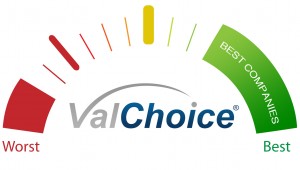 The image above shows the range of scores on the ValChoice fuel-gauge-style image that qualifies the agents for these companies to use the Valchoice platform.
Delivering What Consumers Want
Consumers want a good value and high quality. The fuel-gauge-style image and the data analytics of ValChoice deliver the quality and value information consumers need. Win more business by including ValChoice tools for agents in your sales process.
Learn more about the ValChoice sales tools for agents and carriers.